In this article by Orthofree.com, They Explain about anterior crossbite, its prevalence, etiological factors, management, treatment and some case reports.
Anterior Crossbite

Definition 
An abnormal relationship of a tooth or teeth to the opposing teeth, in which normal buccolingual or labiolingual relationships are reversed.
Prevalence 
The incidence in caucasieans ranges between 2% and 4%.
---
Etiological Factors
Skeletal

 Genetic predisposition
 Embryological defective development
Class III malocclusionmandibular prognathia

,

Insuffecient maxillary
 Dental

 Lingual eruption path of maxillary anterior teeth
 Trauma to deciduous dentition in which there is displacement of tooth buds
  Retained deciduous causing lingual eruption of permanent teeth
  Supernumerary teeth
Functional

Habits

Digital or pacifer sucking habits
Oral respiration
Low tongue position
Stomach sleeping posture
Tongue trusting

Pseudo Class III

 Class I skeletal relationship
 Insuffecient maxillary overjet and incisor interference
 Multi-tooth anterior crossbite may result from a functional shift of the mandible in an effort to avoid anterior interference in centric relation and to achieve maximum inter-cuspation.
Examples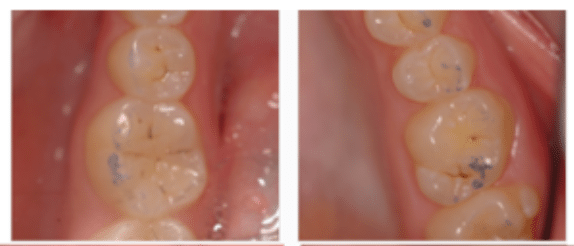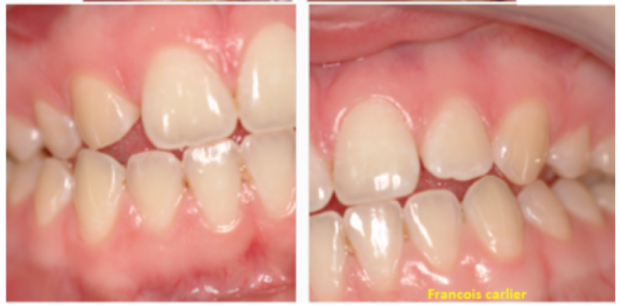 ---
Managment
The period of mixed dentition offers the greatest opportunity for occlusl guidance and interception of malocclusion. Here is a few Management care reports:
Skeletal
Can be controlled during growth by growth modification appliances, such as: Protracion face masks.



Dental
---
Case Reports
Case 1

Case 3

---
Bibliography
Arvystas MG. The rationale for early orthodontic treatment. Am J Orthod Dentofacial Orthop 1998:133:15-8.
Adams P. The design, construction and use of removable orthodontic appliances. 5th ed. Bristol; 1984. p.111-2.
Graber TM, Neuman B. Removable orthodontic appliances. 2nd ed. Saunders; 1984. p. 57-9.
Horosilkina FJ, Maligin JM. Osnovi konstruirovanija I tehnologija izgotovlenija ortodontoticeskih aparatur. Moskva: Medicina; 1977. p. 168-9. Rus
Kalvelis DA. Aparatūras, kas darbojas pēc slīpās plāksnes principa. Ortodontija 1964:135-6;
Patti A, Perier G. Preface. In: Clinical success in early orthodontic treatment. Quintessence; 2005. p. 8.
Proffit WR. The timing of eraly treatment: An overview. Am J Orthod Dentofacial Orthop 2006;4:S48;
Sztele R. Herstellung Kieferorthop.disher apparate. Berlin; 1960. S. 53.
Taatz H. Kieferorthop.dische Prophylaxe und Frühbehandlung.  I. Jirgensone et al. CLINICAL CASE München,Wien: Hanser; 1976. p. 238-9.
Vadiakas G, Viazis AD. Anterior crossbite correction in the early deciduous dention. Am J Orthod Dentofacial Orthop 1992;102:160-2.
Zachrisson B, Thilander B. Treatment of Dento-alveolar anomalies. In: Introduction to orthodontics. Stockholm; 1994. p. 146-182.
Tausche E, Luck O, Harzer W. Prevalence of malocclusions in the early mixed dentition and orthodontic treatment need. Eur J Orthod 2004;26:237-44.
Kiyak AH. Patients' and parents' expectations from early treatment. Am J Orthod Dentofacial Orthop 2006;129:S50-54.
Ngan P. Biomechanics of maxillary expansion and protraction in Class III patients. Am J Orthod Dentofacial Orthop 2002;121:58283.
Dugoni S, Aubert M, Baumrind S. Differential diagnosis and treatment planning for early mixed dentition malocclusions. Am J Orthod Dentofacial Orthop 2006; 129:S80-1.
---
OziDent Members Only
The rest of article is viewable only to site members,Please Register and/ or Confirm registration via EmailHere.

If you are an existing user, please login.
---