In this article, we discuss the proper management of traumatized teeth in the pediatric dentistry scene.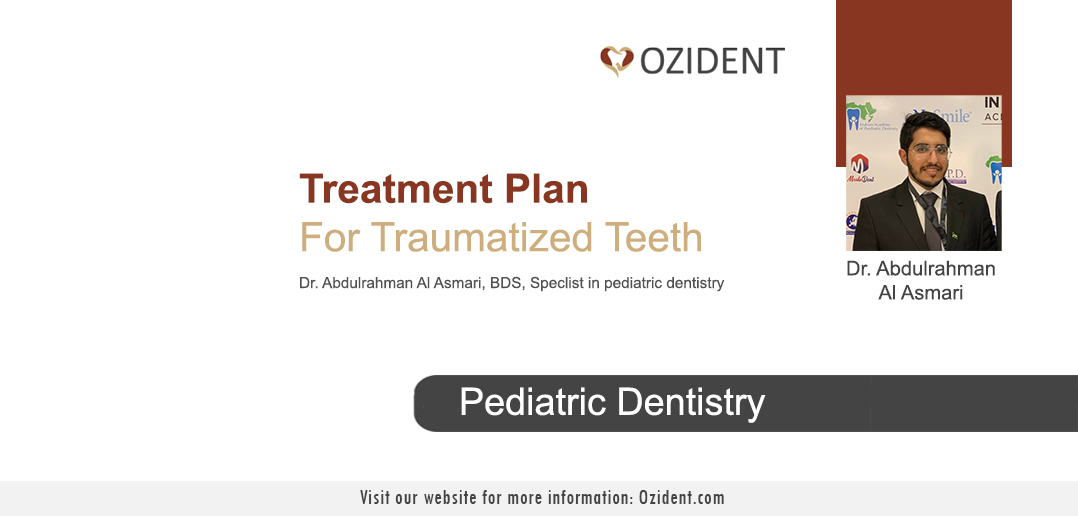 Etiology
Males more common (males:females = 2:1).
Maxillary anterior teeth are the most common.
Patients with increased overjet more common.
30% of children have trauma to the primary dentition.
22% of children have trauma to the permanent dentition by age 14.
Possible reactions of a tooth to trauma
Pulpal: May lead to infarction and necrosis due to increased intra-pulpal pressure.
Internal hemorrhage

Capillary rupture due to increase pressure.
Within 2 to 3 weeks following trauma.
May cause discoloration.

Calcific metamorphosis (pulp canal obliteration or PCO)

Partial obliteration of the pulp chamber and canal.
These teeth typically remain vital.
Yellow, opaque appearance.

Internal resorption

Due to osteoclastic action.
"Pink spot" perforation may occur

Peripheral root resorption

Due to damage to the periodontal structures.
Usually in severe injuries with the displacement of the tooth.
Types

Surface: normal PDL, small areas.
Replacement: ankylosis
Inflammatory: granulation tissue,radiolucency.

Pulpal necrosis

Due to the severing of apical vessels or prolonged hyperemia and strangulation.
May not occur for several months.

Ankylosis
Ankylosis can occur with PDL injury, which leads to inflammation, and osteoclastic. This may cause fusion between bone and root surface.
Clinically, an ankylosed tooth's occlusal or incisal surface is gingival to adjacent teeth
During growth, healthy teeth continue eruption, but because ankylosed teeth are osseointegrated, these teeth will appear to be sinking into the gingival.
Consequences to permanent teeth with injury to the primary predecessor
Primary anterior teeth are positioned labial to their permanent successor. Therefore, an injury that forces the root of the primary tooth into the developing permanent tooth may result in one of the following:
Hypocalcification/hypoplasia.
Reparative dentin
Dilaceration (or bending of the permanent tooth).
Patient assessment
These issues should be assessed for all trauma cases:
Medical history
Pay particular attention to:

Drug sensitivities.
Congenital or acquired cardiac problems
Coagulation disorders.
Seizure disorders.

Determine tetanus coverage

Uncovered children: antitoxin (tetanus immune human globulin).
Children with previous but dated coverage: toxoid booster.
Active immunization

Three injections of diphtheria, pertussis, and tetanus (DPT) vaccine during the first
Booster at 1.5 and 3 years.
Booster at 6 years of age and then every 4 to 5 years.

Neurological assessment
Obtain information regarding loss of consciousness:

Neck or head pain.
Numbness.
Amnesia.
Nausea, vomiting.
Drowsiness.
Blurred vision.

If in doubt regarding neurological status, refer to an emergency medical facility.
Dental history Questions
How did the trauma occur?
When did the trauma occur?
Where did the accident occur (school, home, athletic field), and where in the craniofacial region did the trauma occur?
Did the patient experience unconsciousness, headache, amnesia, or nausea?
Was there a previous injury to the area?
Was there a previous treatment to the area?
Is there a problem biting together in the usual manner?
Radiographs
X-ray injured tooth, adjacent teeth, and opposing teeth.
Evaluate the proximity of fracture to the pulp.
Estimate root development.
Look for root and alveolar fractures.
Note any periapical pathology.
Note previous treatment.
Typically, radiographs are indicated at 1-, 2-, and 6-month intervals following a traumatic incident.
Diagnostic tests
Electrical pulp tests (EPT) and thermal tests may be unreliable in primary teeth.
If a tooth is incompletely erupted or is being orthodontically treated, the tooth may be healthy even if there is little sensitivity to EPT.
General initial assessment of hard tissue injury
Check for crown fracture.
Check for pulp exposures
Check for displaced or avulsed teeth.
Check for mobility.
Examine adjacent/opposing teeth for injury.
 General follow-up assessment
Accomplished generally according to scheduled follow-ups
Clinical examination

Mobility.
Percussion sensitivity.
Discoloration and when discoloration began.
History of spontaneous pain.
Swelling or fistula.
Pulp testing.

Radiological examination:

External root resorption.
Internal root resorption.
PDL space.
Periapical radiolucencies.
Continued narrowing of pulp canal space: Indicates vital pulp and May lead to calcific metamorphosis.
Root fractures.
Treatment Guidelines for traumatic injuries (Click on the image to view it)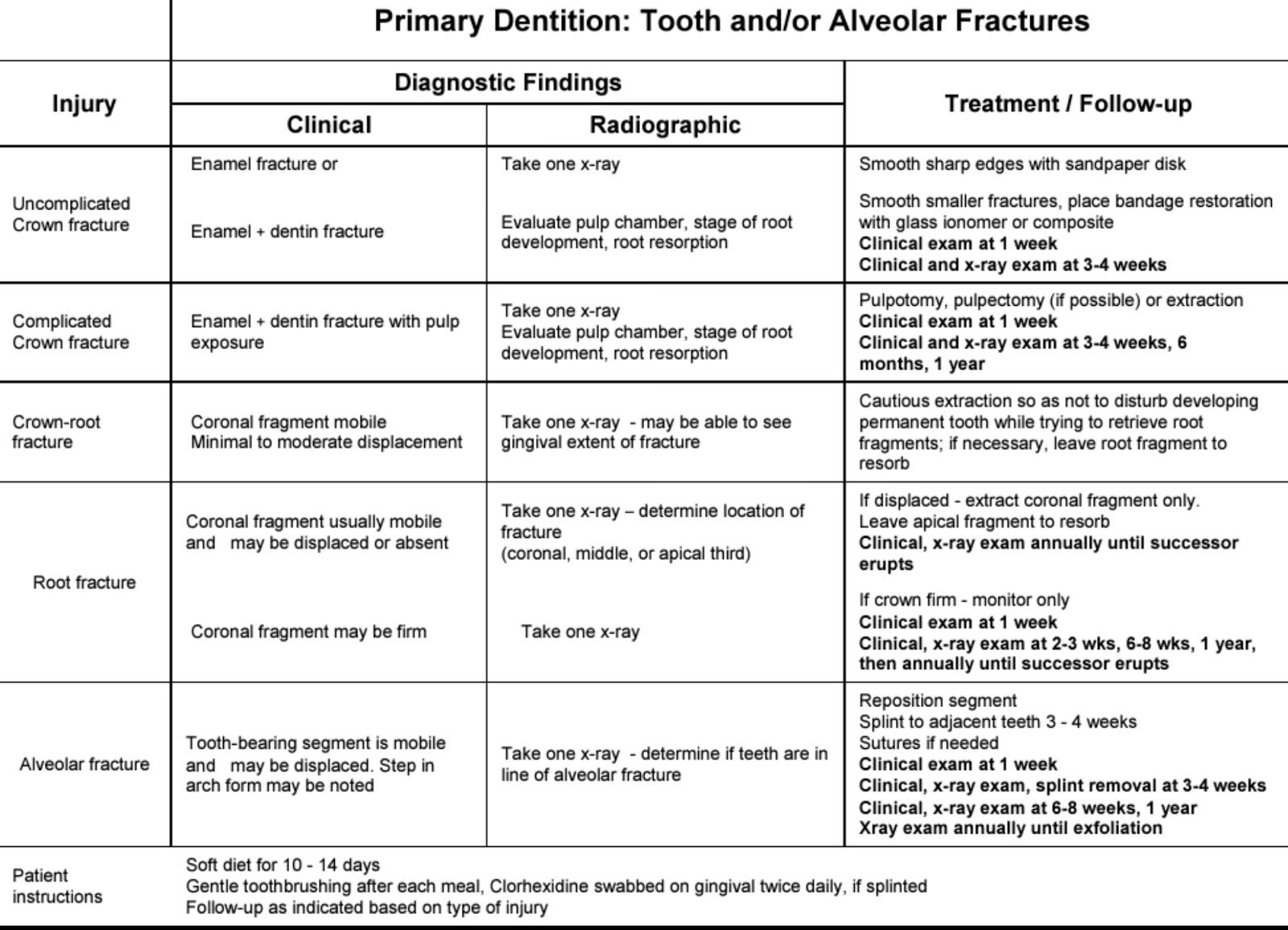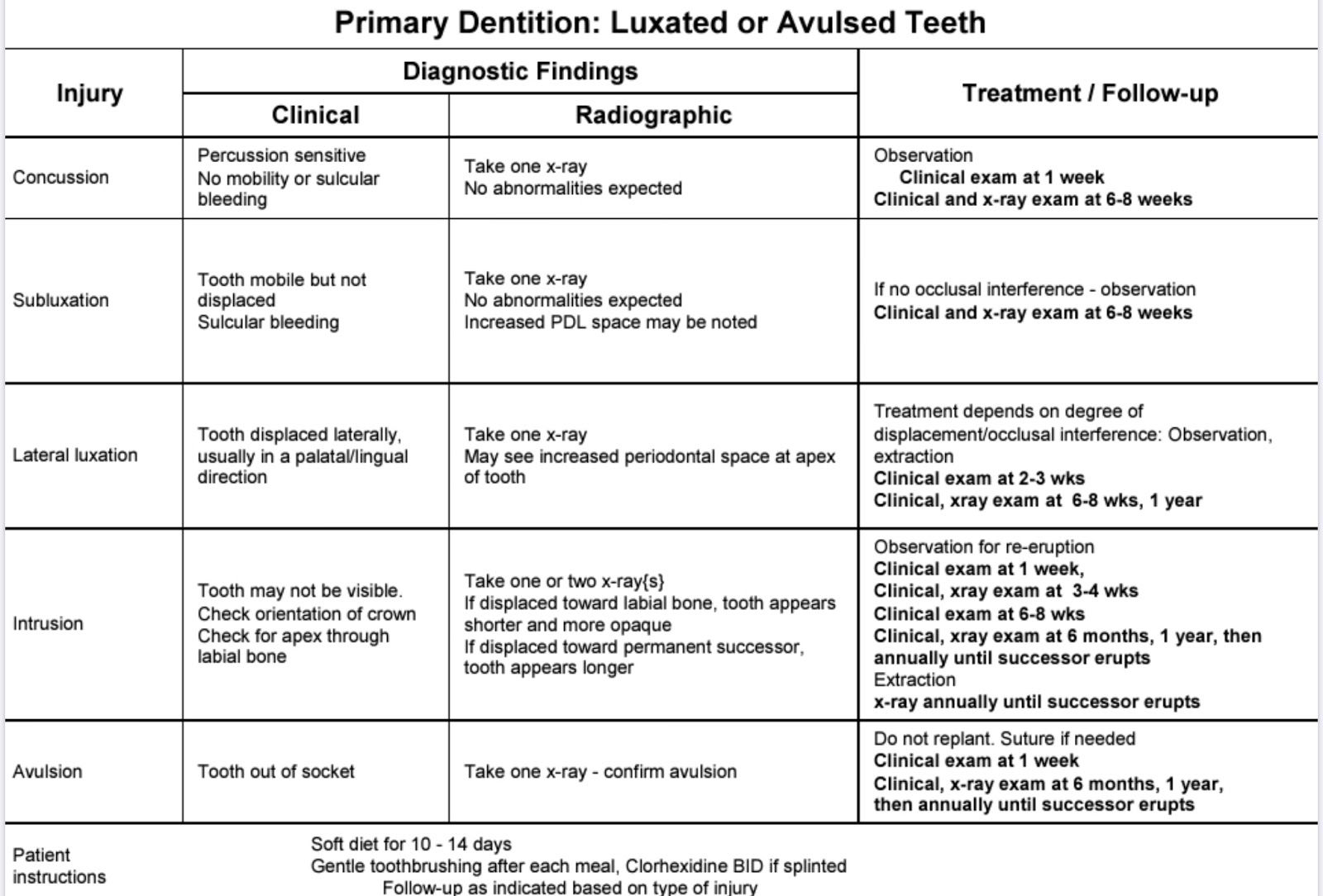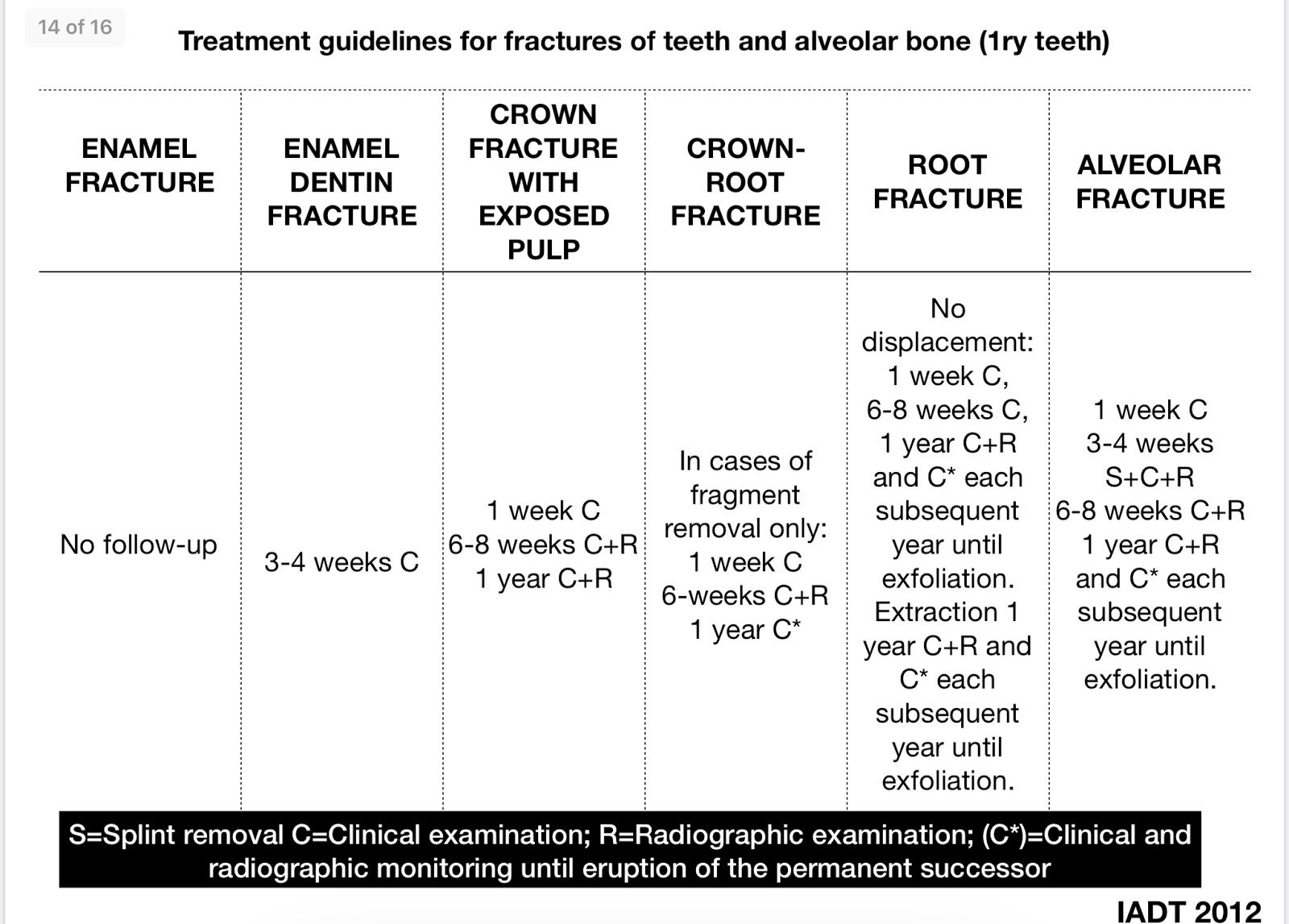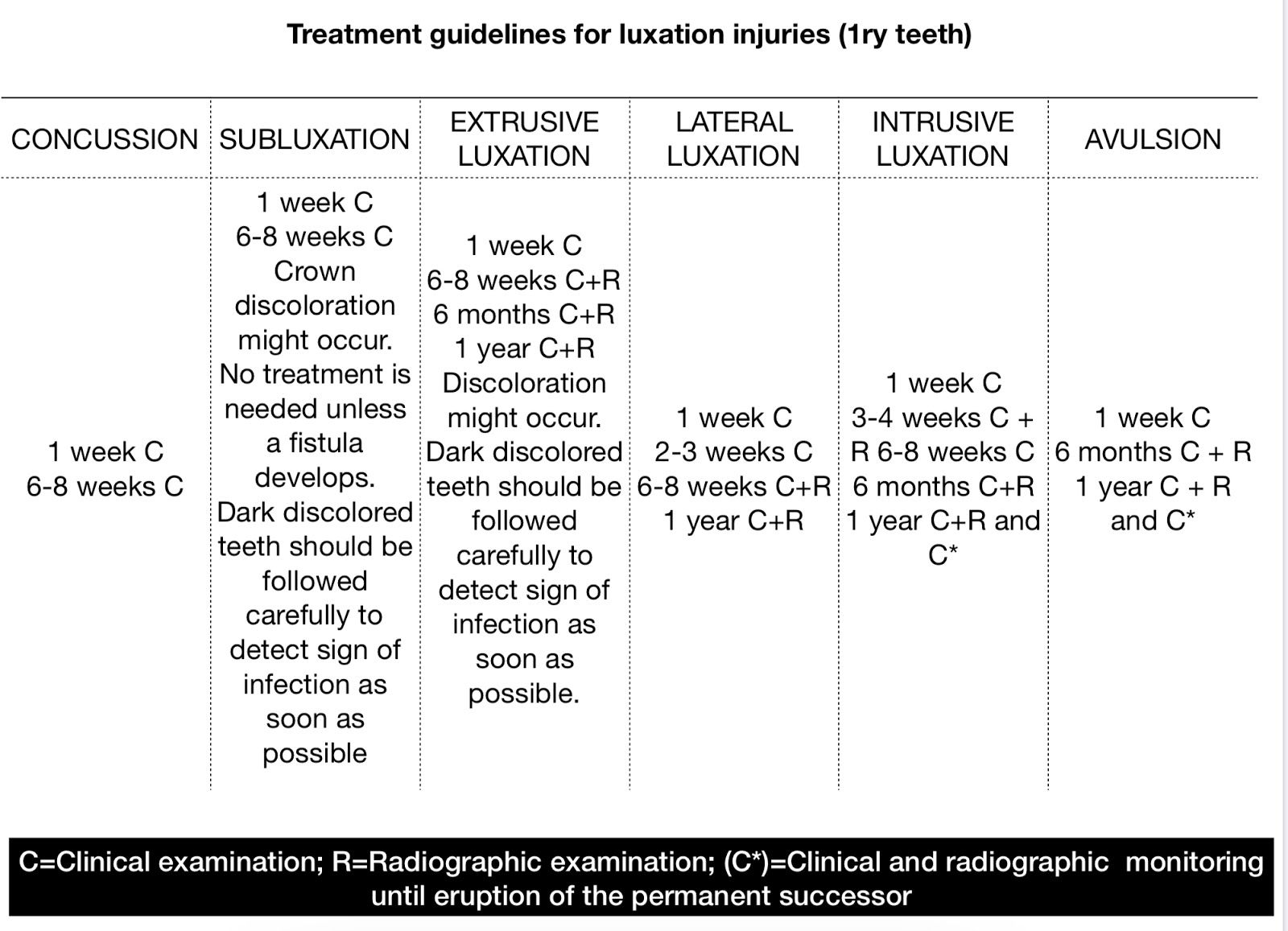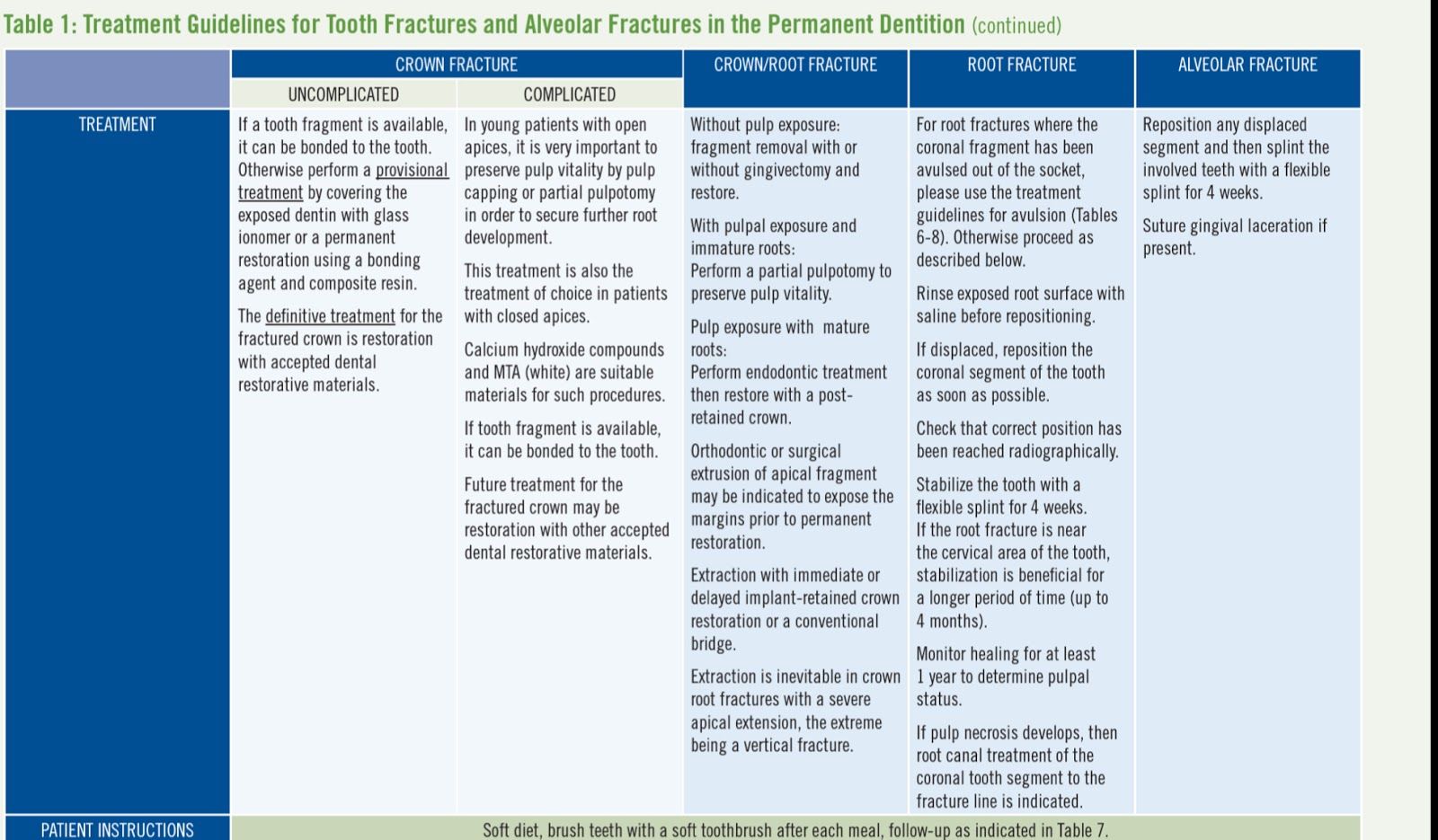 Sources:
AAE guidelines for traumatic injury management.
AAPD guidelines for the management of traumatic injury.