In this article, we explain how to avoid the most common mistakes dentists make when searching for a job utilizing LinkedIn and how to improve your LinkedIn profile prominence thus improve your chances to seize your dream job.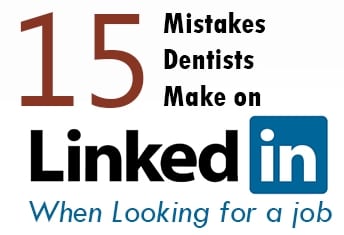 Searching for a job is a stressful matter and finding the perfect job is even more difficult. That's why utilizing all available 
methods to search for work including social media platforms like
LinkedIn
is essential. 
LinkedIn is dubbed the social media for professionals thus it's important to that your profile appears professional as it's the 
considered the first impression
(even though its digital )
that the employer/recruiter will
base on. Your LinkedIn profile is an excellent way to help make your résumé stand out as long as you cater your profile to the desired career path and create/maintain the proper interactions related to your scope of work.
First impressions ( Including Digital and C.V.) can affect greatly your work chances, make sure your first impression is the one that want to last
LinkedIn Mistakes Job Seeking Dentist Make
1.Typos Typos Typos!!!!
Professionalism demands perfection even in the smallest details, that involves proper spelling and grammar. So make sure when you are using it, write it correctly. Many browsers (including Chrome) have plugins and add-ons that help improve the quality of your writing and corrects all grammar and spelling mistakes. unfortunately, not many mobiles have the same feature.
2. A bad Profile Headline.
It's important to create a catchy up-to-date headline, depending on your current situation:
For Students: Don't just write you are a student at X University, it's better to express your university major/ specialty and non-profit work experience. E.G.  "A Dental Student at Misr International University with experience in diagnosis and clinical management "
For Job Seekers:

NEVER WRITE

"Unemployed" but describe what you are looking for. " Experienced Dentist searching for new opportunities in the private sector"
For Non-Job Seekers: Write about what you do and what your passion is: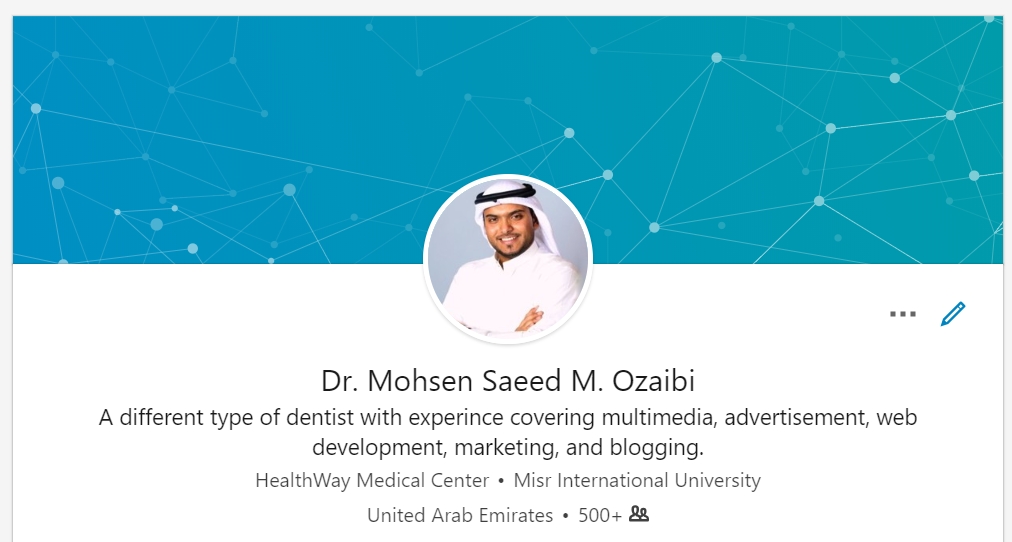 I am always looking to connect with like-minded people to think outside the box relevent to dentistry, connect via my profile link: www.linkedin.com/in/ozaibi – Dr. Mohsen Ozaibi
 3.Using a non-professional Profile picture!!
When selecting a proffesional profile picture, select the picture meant for the job you want, not the job you have.
Your profiles picture is worth 1000 words so make sure those words express how valuable and professional you are for the dentist position, try to avoid the following Pictures:
Non-professional Pics like pictures of you monkeying around or partying.
Pictures that are clearly cropped.
Pictures of you and your loved ones
Funny Selfies.
Dirty shave or no makeup.
Filter fiesta
Wearing hats, Sun-glasses and/or intensive cleavages.
4. Including Basic and Elementary skills On your profile
It might be logical to include as much information about your skills as possible, but truth be told IT IS NOT!!! Employers expect you to be punctual, and to know how to use basic software including browsing,  PowerPoint, and Excel. So don't include it in your LinkedIn profile. Becuase when you express those as skills you indirectly express that these are the only good skills worth mentioning. 
So what skills should be included in a dentist's Profile?
You should include skills that are unique and special that sets you apart from others:
Designing: an ability to create and design ads in photoshop or illustrator.
Photography: great at taking photo or videos great for advertising reasons.
People Skills: representing the clinic in public meetings, email replying and the patient complains management.

5. Not Filling your Summary with relevant information.
The summary on your profile is the most important section of your profile, thus it is important to write the correct terms & keywords relevant to your profession as a dentist. LinkedIn's algorithm uses the summary as keywords and searches terms that are crucial for recruiters and hiring managers searching for talent on LinkedIn. The important thing to remember is that the first 50 words are the ones that will appear first thus make them count!
The main takeaway is that your summary is vital to capturing your viewer's attention and potentially converting them from viewer to connector or service seeker (or whatever you want them to be) – Brandon Hastings
6. Posting non-work-centric updates.
As a professional, your LinkedIn updates, posts and content should be relevant to your profession. Avoid using LinkedIn as any other social site ( posting funny pictures, family moments, irrelevant comments and pictures of kittens!!). A good way to solidify your professionalism is to publish posts related to your experience, which will get you thousands of views.
When using LinkedIn, use it only for things that are related to your career.
Try to avoid the following topics:
Controversial topics
Religious or political topics.
Pitching sales.
Too personal Topics.
When in doubt, the best rule of thumb is to always keep it professional and avoid all negativity. –  Melonie Dodaro
7. Silent profiles.
There is no use of creating a LinkedIn Profile and completely forgetting about it, A silent feed is a bad sign and even worst when your searching for a job. A lively profile can provide a good insight into your Professionalism and passion for the recruiters. A good idea is to post regularly ( weekly) about your professional world through photos, updates, posts, and comments. The more you update the more you will show up in the network feed for others the more chances they will consider you if they are looking for dentists.
8. listing unrecognized skills.
It's important to add some skills to your profile to make yourself searchable, but don't create, misspell or chose skills that aren't widely recognized as it won't help your profile to be easily searchable. When entering skills, make sure they appear in the drop-down menu as these are the common and frequently searched skills. So if you are a dentist here are a few examples of skills: dental management, dental specialties, veneers, cosmetic dentistry …etc
LinkedIn has a feature to let people endorse specific skills.
9. Not Joining dental and dental-related groups
LinkedIn Groups is a great tool to find people who share the same interests and communicate with them.  Being in the same group helps to break the Ice when messaging them. But be careful to whom you send messages as LinkedIn only allows 15 messages per month to group members. These group will help find possible listings or connections to a job opening in addition to getting relevant dental knowledge.
10. Using Generic / Default messages when connecting with others.
This is a no-brainer,  when connecting with others do not use the default messages as it shows how little interest you have for that person and doesn't explain what your intentions are and common interests your share.
A good tactic for messaging is to start with addressing the person with a proper greeting and addressing them with their professional name and title. It's crucial to explain why you are connecting and/or what common interests you might share with that person. Don't start sending messages you are looking for work unless you for a sure that the person is seeking dentists. Take your time and slowly explain what you are looking for.
11. Ignoring your network
It is important to continuously engage with your network members with simple things, like congratulate them on a new position or a birthday, so don't ignore your network. The more engagement you maintain the more likely they will consider you when they are hiring.
12. Create your custom LinkedIn Profile link
LinkedIn provides each profile with the ability to create unique custom URL to your profile making easier to remember and reach, Give it a try!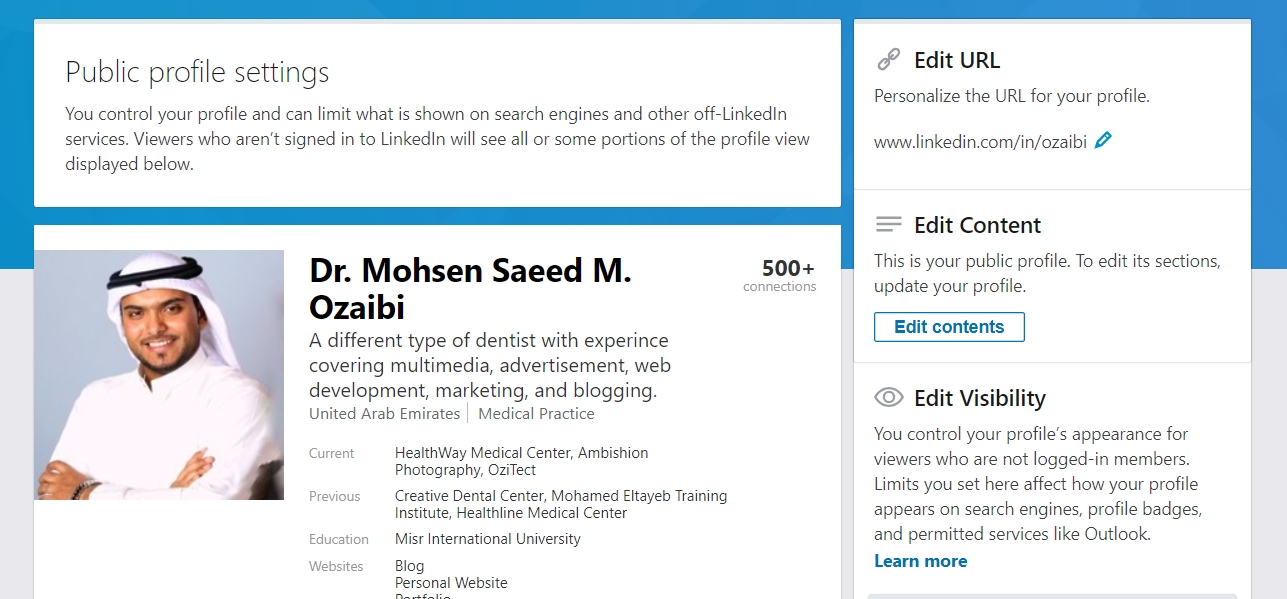 13. Staking Others
One of the key features of LinkedIn is that anyone can see who visited their profiles recently which depends on your public profile settings. So if your profile is public you can publicly see who viewed your profile and the opposite is correct ( limiting your profile details will limit what you see about who viewed your profile). So the recruiter / Dental manager will have the privilege to see who visits their profile, so if you're looking for a job and visit them over 50 times, consider your self a creepy stalker!!! But on the other hand, if someone visited your profile multiple times and share the same interest as you, it won't hurt to send them a welcome message and connect with them.
14. Overlooking the power of the Advanced Search tools for jobs
When using LinkedIn's search for jobs, take advantage of the advanced search tools to help filter irrelevant positions and create a search result catered to your needs. It's better to search by Keyword, industry, location, and position.
15. Not using Search Alerts
The final point is more of an additional advanced search tool. Its basically creating an email alert when new results are produced relevant to the advanced search terms you saved.
---
Sources