In this article, we briefly describe the disabilities associated with cleft lip and/or palate.
Disabilities Associated with cleft lip and palate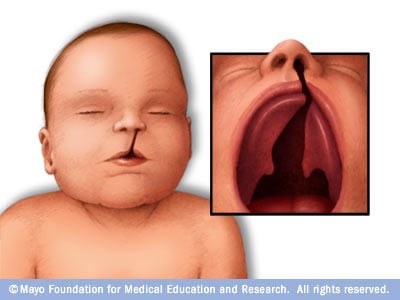 ---
Improper nutrition
In case of cleft palate:
Cannot suck due to absence of negative pressure in oral cavity.
Food Escape through the nasal cavity.
Impaired masticatory function due to missing teeth and malocclusion.
This malnutrition and debilitation will effect the general health.
---
Swallowing
In case of Cleft palate (both soft and Hard Palate)
Fluid and food will regurgitate into the nasal cavity.

---
Esthetics
In case of Cleft lip and/or in hard Palate
Cause a distorted abnormal facial appearance and look.
Cleft in the soft wont effect the appearance though.
---
General Health
Inefficient feeding, nutrition and mouth breathing leading to Decrease in the general health.
---
Psychological trauma / Congenital defects:
Difficulty in adjusting to society.
Chang of attitude to Withdrawal or aggressiveness
Feeling of inferiority and frustration.
Proper care and management is needed for the patient to gain a normal attitude and acceptance.

---
Speech:
Complex mechanism between many organs including: Respiratory tract, tongue, teeth, lips, competent soft and hard palate and an efficient plato-pharyngeal sphincter.
Phonetics: is learnt rather than an innate function but once learned, speech is developed
Incompetent lips and/or cleft palate and/or inadequate plato-pharyngeal closure as Air needed for sound escapes through the nose rather than the oral cavity thus Nasal speech are unclear. Nasal Speech are(M,N,ing).
Speech is more complicated with congenital defects than acquired becuase Children with congenital defects they didn't develop the correct speech pattern (speech is a process learned) thus need speech therapy after correction of the defect to acquire the normal patterns. While in acquired defects the speech pattern is already (almost always) acquired, thus by correction the defect will not need any speech therapy.
---
OziDent Members Only
The rest of article is viewable only to site members,Please Register and/ or Confirm registration via EmailHere.

If you are an existing user, please login.
---